ExpressVPN and NordVPN are two of the most popular VPN services on the market. VPNs have become indispensable for protecting your privacy and staying secure while connecting to the Internet. In addition, they also provide access to exclusive or limited content not available in specific countries.
Some of the benefits of having a smartphone VPN installed depend on the characteristics of the service provider. Such as having a wide variety of dedicated servers or offering enough bandwidth to access services such as music or video streaming. So, to choose which VPN is best, we will have to look at these and other aspects we will notice when we use them in our day-to-day life.
There are common features found in both ExpressVPN and NordVPN. They have thousands of servers around the world, their applications can be installed on any device connected to the Internet, they have technical support, their prices are competitive, and they have very comprehensive privacy rules. But despite this, you might be wondering: which is the best smartphone VPN?
ExpressVPN and NordVPN comparison: which one should you choose for Android
Suppose you need to choose between these two VPN providers. Which one should you pick? The decision is not easy. Both have an Android app. Both are compatible with Netflix and other streaming services. They also let you download Torrent content. And for your safety, neither of them keeps historical records of what you do online. These records are often called logs.
But there are details to keep in mind. For example, how many servers each one has? Where are these servers located? Where are their official headquarters? What connection speed is offered to the user if they need to watch a video, play online games, or listen to music over the Internet? And let us not forget its price. Is it worth it? Are discounts available?
ExpressVPN vs. NordVPN: Which VPN is cheaper
Let us start with the price. ExpressVPN and NordVPN are two of the best available if you need a VPN provider. However, their price may be an aspect that tips the balance to make you choose one or the other. Note that both use a subscription model that allows you to make payments monthly, every six months, or once a year. It is up to you to pick one or the other option.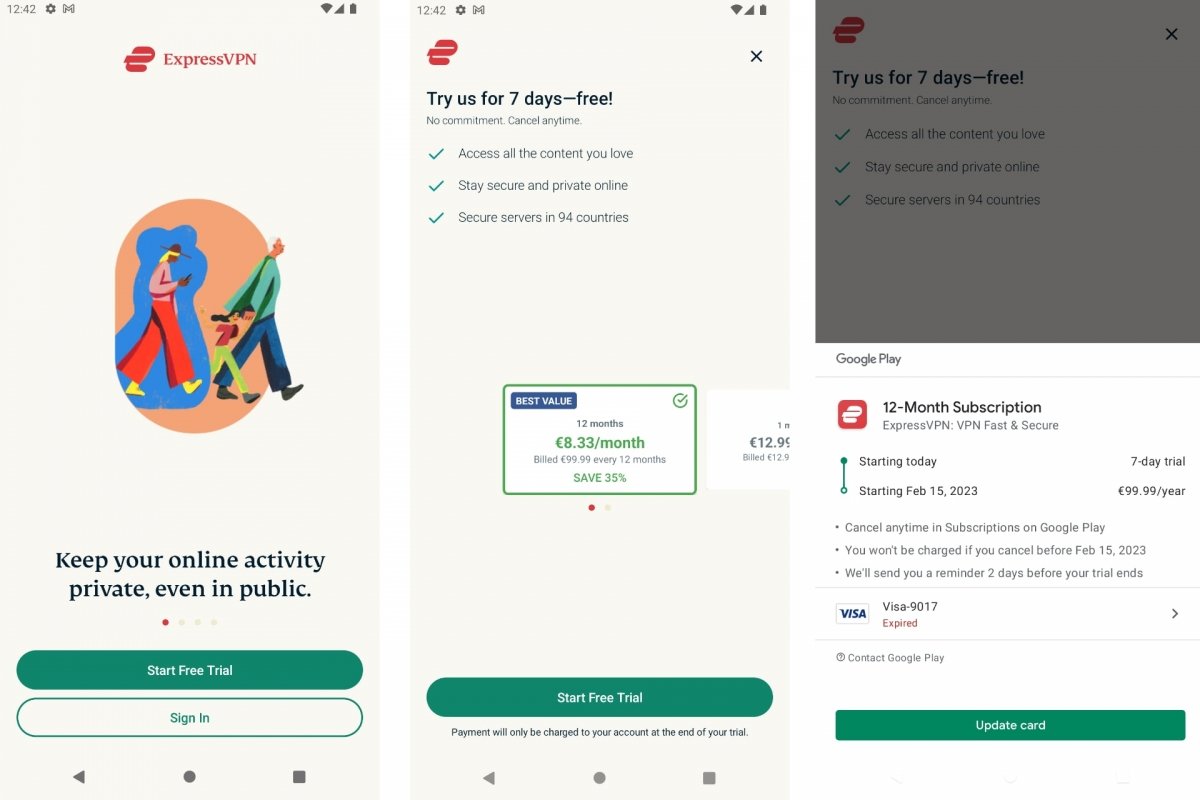 ExpressVPN trial period
ExpressVPN has the following subscription plans:
Pay 13,15 USD per month.

Pay 10,14 USD per month for six months.

Pay 6,78 € per month for 15 months (3 months free).

All plans are charged in US dollars.
NordVPN offers three versions of its service: Standard, Plus, and Full.
Standard: VPN + antimalware + ad blocking

Plus: All of the above + password manager + data leakage scanner.

Full: All of the above + 1 TB of encrypted cloud storage.
NordVPN Standard plan prices are as follows:
Pay 12,76 USD per month.

Pay 5,39 USD per month for one year (63,70 USD for the first year).

Pay 3,71 USD per month for two years (89,11 USD for the first two years).
NordVPN Plus plan prices are as follows:
Pay 13,82 USD per month.

Pay 6,37 USD per month for one year (67,77 USD for the first year).

Pay 4.78 USD per month for two years (114,64 USD for the first two years).
The prices of the NordVPN Full plan are:
Pay 15,42 USD per month.

Pay 7,97 USD per month for one year (72,10 USD for the first year).

Pay 6,37 USD per month for two years (94,80 USD for the first two years).
Besides the price, there are other things to consider when choosing a good VPN provider. If we compare ExpressVPN vs. NordVPN, what do they offer to pick one over the other? Let's look at the most important features a smartphone VPN service must have.
ExpressVPN vs. NordVPN: Number of servers and countries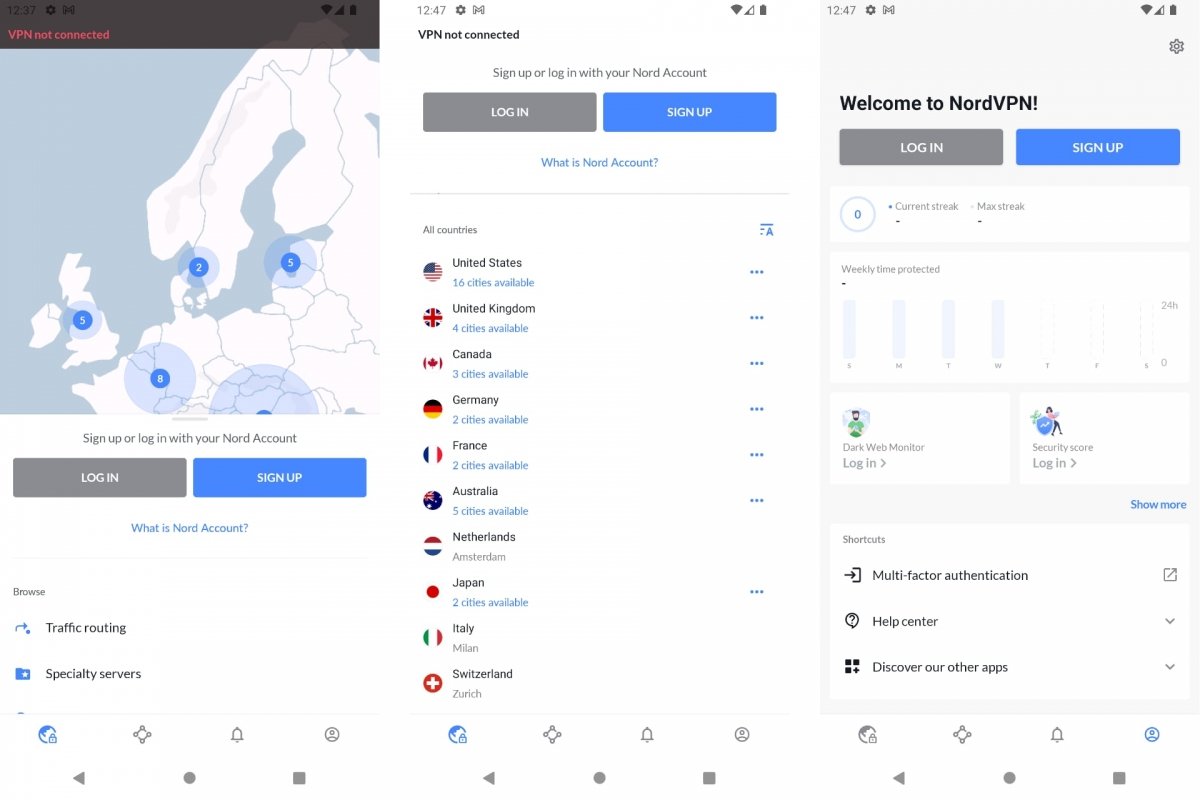 Countries with NordVPN servers
The more the best. This way you can choose different places to mask your real location on the globe. ExpressVPN has over 3,000 servers. NordVPN exceeds 5,500 servers. Another important detail. A smartphone VPN is useful for accessing content or websites exclusive to certain countries. ExpressVPN has servers in 94 different countries. NordVPN has servers in 60 countries.
ExpressVPN vs. NordVPN: Encryption method
VPN servers must send and receive your encrypted data. You might lose access to other services if it falls into the wrong hands. ExpressVPN and NordVPN use the AES-256 protocol. And for control channel encryption, both use RSA-4096.
ExpressVPN vs. NordVPN: VPN Protocol
The VPN protocol is the technology used to make VPN connections. ExpressVPN and NordVPN use several protocols. Both use OpenVPN and IKEv2. In addition, ExpressVPN also uses the Lightway protocol, while NordVPN makes use of NordLynx.
ExpressVPN vs. NordVPN: Maximum number of devices connected
Since you are paying for a subscription, the more devices you can connect to it simultaneously, the better. ExpressVPN supports up to 5 simultaneous devices. NordVPN raises the number to 6 devices.
ExpressVPN vs. NordVPN: Average download speed
Bandwidth is important in a smartphone VPN. Especially if you are going to watch videos, listen to music, or download files. The specialized portal SecurityTech tested both VPNs by connecting them to servers in New York, Seattle, and Los Angeles. These are the results:
280 Mbps from NordVPN vs 214 Mbps from ExpressVPN (New York) 120 vs. 89 ms ping.

446 Mbps from NordVPN vs 137 Mbps from Express VPN (Seattle). 24 vs 23 ms ping.

305 Mbps from NordVPN vs. 210 Mbps from ExpressVPN (Los Angeles). 49 vs. 45 ms ping.
ExpressVPN vs. NordVPN: Streaming services support
Both ExpressVPN and NordVPN let you connect to streaming services in other countries. Both work with all major platforms: Netflix, Hulu, Sky, Prime Video, BBC iPlayer, and more.
Support and additional services
Both VPN services offer 24-hour help and online assistance with no time limit through different channels. But what do ExpressVPN and NordVPN include in their subscription plans besides VPN services? ExpressVPN has an intelligent DNS service. NordVPN offers far more services. As we saw in the prices section, it has three plans depending on whether you want to include malware protection, ad blocking, password management, and cloud space to store your files.
ExpressVPN Reviews
What do people who have tried ExpressVPN say about it? One of the highlights of this smartphone VPN provider is the speed of the connections. And that it offers good value for your money. The speed is appreciated by users and media experts alike, as well as its overall good performance.
Other highlights of ExpressVPN are its specialized servers and the possibility of accessing streaming services from other countries without geographical restrictions. That and its ease of use. You only need to install the application and make a few adjustments to make it work properly.
As for negative opinions, some criticize its price compared to other VPN providers, as well as some problems with bypassing the Internet limits imposed in China. Otherwise, most opinions are positive.
NordVPN Reviews
What do people who have tried NordVPN say about it? Experts and users highlight the add-ons offered by this VPN provider. That is, anti-malware protection, and ad blocking, among others.
Speed is also something that is often mentioned about NordVPN for the best. This is something to consider if we are going to play online games or stream content. Some also highlight its support for streaming and Torrent downloads.
Regarding negative opinions, some users complain about not being able to connect to the Internet from China. This is a frequent problem in this kind of app.
which one is the best mobile VPN Download